Combined Kenya Tanzania Safari Tour in 16 Days
On this  Combined 16 days Kenya Tanzania safari tour, you will experience Kenya's major parks plus Tanzania's most famous Northern parks  of , Nairobi, Amboseli, Serengeti, Ngorongoro crater, Tarangire, Masai Mara,  Lake Nakuru &  Mount Kenya. You will explore the diverse landscapes of Africa while encountering literally hundreds of species of wildlife. There will be lots of time for viewing wildlife, soaking up the beauty of the land and connecting with the local cultures, all customized to your satisfaction
Detailed Itinerary 16 Days Kenya Tanzania Safari Holiday and Wildlife Tours
Day 1 Nairobi, Kenya
Arrive in the Kenya capital of Nairobi. Known as "The Green City in the Sun", Nairobi is a cosmopolitan city that hasn't lost its authentic African flavor. This evening, relax at the stylish Emara hotel overlooking Nairobi National Park.
Day 2: Nairobi
Travel this morning to Karen, a suburb on the outskirts of the city, where you will visit the farmhouse of "Out of Africa" author Karen Blixen. You then get your first glimpse of the local wildlife when you have an opportunity to feed endangered Rothschild giraffes from a raised platform at the Rothschild Giraffe Sanctuary. With their sloping necks and black tongues just inches away, this is an experience you will never forget! An unforgettable experience is in store for you this afternoon as you visit the students at Tenderfeet Education Center. Supported by the Collette Foundation, Tenderfeet schools orphans and high risk children in Kibera. This evening, enjoy a mouth-watering dining experience at the famous Carnivore Restaurant. Be sure to bring your appetite and a sense of adventure! (BD)
Day 3: Nairobi – Amboseli National Park
Depart Nairobi for beautiful Amboseli National Park. Amboseli is famous for its open plains that are home to incredible wildlife including lions and elephants. On top of it all is the breathtaking snow-capped Mt. Kilimanjaro which dominates the landscape. Enjoy a game drive through this rugged park en route to your Serena Lodge.(BLD)
Day 4: Amboseli National Park
Rise early to sneak a peak at the animals during a morning game drive. With any luck you will see the "Big 5" that Kenya is known for: lion, elephant, buffalo, leopard, and rhino. Return to your hotel to relax a bit before returning to the park for an afternoon game drive and another opportunity for spectacular sightings Dinner & overnight at Amboseli Serena Lodge. (BLD).
Day 5: Amboseli – Arusha – Tarangire, Tanzania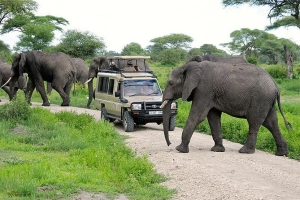 Say goodbye to Amboseli National Park this morning and travel to the East African country of Tanzania. You will cross the Tanzanian border at Namanga and continue into Tarangire National Park, an unspoiled paradise known for its distinctive Boabab trees and excellent game viewing dinner & Overnight at tTarangire Sopa Lodge (BLD)
Day 6: Tarangire – Ngorongoro Crater
Your destination today is Ngorongoro Crater, one of the most fascinating spots in all of East Africa. Sprawling across 265 square kilometers, Ngorongoro Crater is the largest intact caldera in the world. Vast expanses of gray-green earth extend as far as the eye can see, interrupted only by herds of wild animals. In fact, this UNESCO World Heritage Site is said to host over 20,000 animals at any given time. Dinner & Overnight Safari Lodge(BLD)
Day 7: Ngorongoro Crater National Park

Descend into the crater for a full day of discovery. With the highest concentration of wildlife in East Africa, Ngorongoro is home to scores of zebra, wildebeest, and gazelles. You may even spot the endangered black rhino! In the middle of your safari, pause for a relaxed picnic lunch while surrounded by the beauty of the park. This afternoon you will have a unique opportunity to visit a Masai village to learn about their beliefs and traditional way of life. Over night & Dinner at Ngorongor Serena Lodge (BLD)
Day 8: Ngorongoro – Serengeti
An unforgettable day is in store for you today in the most famous of game parks: The Serengeti. The name "Serengeti" comes from the Masai word for "endless plains." You'll see the beauty of the landscape unfold around you as you travel to your lodge. Along the way enjoy a stop at Ol Duvai Gorge, also known as the Cradle of Mankind. This stunning landform is said to be one of the most important pre-historic sites in the world and has been instrumental in theories of human evolution. Enjoy a game drive on the Serengeti Plains at dusk. (BLD)
Day 9: Serengeti
Today you will enjoy a full day of sightseeing in the Serengeti with morning and afternoon game drives! Be sure to bring your camera! Dinner & overnight at Serengeti Sopa Lodge(BLD)
Day 10: Serengeti – Masai Mara, Kenya
Cross the border back into Kenya and travel to the Masai Mara Game Reserve. The Masai Mara is an extension of the great Serengeti Plain and is generally thought to be the most magnificent game viewing spot in all of Kenya. Here you are likely to see lions, giraffes, zebras, elephants, and other wildlife simply existing in their natural habitat. Your afternoon game drive is sure to be a highlight, followed by a night of relaxation in a luxurious tented camp. Your tent will provide all the deluxe amenities of a lodge with the priceless adventure of the wild. Mara Serena Lodge (BLD)
Day 11: Masai Mara
Experience the magic of the Masai Mara during a full day of activities. Journey through the open plains of the Masai Mara on morning and afternoon game drives in search of spectacular wildlife! (BLD)
Dinner & Overnight at Mara Serena Lodge
Day 12: Masai Mara
An optional hot air balloon ride, giving you a birds-eye-view of the wide open plains, is available this morning. Then, enjoy both morning and afternoon game drives. Finally, enjoy a nature walk through the wilderness guided by a local Masai warrior and a visit to a local Masai village. This evening you will be treated to a traditional bush dinner followed by a traditional Masai dance performance. Dinner & Overnight at Mara serena lodge(BLD)
Day 13: Masai Mara – Nakuru
This morning you head north to Lake Nakuru. Known for its flamingo population and rhinos, Nakuru is one of Kenya's most picturesque parks. Enjoy the scenery during your afternoon game drive before settling in for a lovely dinner and an evening at leisure. dinner and Overnight at nakuru soper lodge (BLD)
Day 14: Nakuru – Nanyuki
Travel today to the Equator and the world-famous Mt. Kenya Safari Club. Seated in the shadow of Mt. Kenya, this iconic resort boasts a rich history and beautiful grounds. The resort was once the private hunting lodge and retreat of movie star William Holden. You'll feel like you're living the life of the rich and famous as you lounge by the pool, wander the grounds, and enjoy afternoon tea in the Zebra Bar. Your visit to the Equator wouldn't be complete without experiencing the phenomenon known as the Corealis effect. Watch and discover why water spins different directions on different hemispheres! (BLD)
Day 15: Nanyuki
The day is yours to spend at the sprawling Mt. Kenya Safari Club. Relax and enjoy your lovely surroundings and the spectacular views of Mt. Kenya, or participate in one of the numerous activities available. Join together for a spectacular farewell dinner this evening. (BLD)
Day 16: Nanyuki – Nairobi
Travel back to the city of Nairobi today where your tour ends.
Price per person For 2 Pax: From $6740
Price per person For 4 Pax : From $6290
Price Per Person For 6 Pax: From $ 5870

The Price Includes:
Airport transfers on arrival and departure in Nairobi as per the itinerary
1 night bed & breakfast accommodation in Nairobi Serena Hotel, standard room
Transportation & inclusive use of our 4 wheel drive safari landcruiser throughout
your safari
Services of an experienced English Speaking driver / guide throughout your safari
Unlimited game drives during the day as per itinerary
Park entrance fees for the above mentioned game parks & reserves
Accommodation as per the Itinerary
Meals as per the itinerary
Evacuation insurance in Kenya in case of an emergency
Excluded
Items of personal nature i.e. beverages, laundry, telephone, souvenirs etc.
Travel / medical / cancellation insurance
Tips / gratuities for driver / guide and hotel / Lodge / Camp staff
Extra cost incurred if change in itinerary
Excursions / additional accommodation / meals in Nairobi
Any extras not mentioned above e.g. extra meals, activities on safari & beach etc
Visa fees for Kenya
For more Tanzania Safaris, contact Bushtroop tours and Safaris on www.bushtroop-safaris.com, by email at: info@bushtroop-safaris.com, bookings@bushtroop-safaris.com or call/whatsApp us on +254 722 802513
Fill Free To Fill This Contact Form