8 Days/7 nights Kenya Family Safari Tours With The Young Kids
8 Days/7 Nights Kenya Family Safari Tours, Best of 8 days Kenya Family Safari With Young Kids, Family Holidays in Kenya, Kenya family vacation tours  , Kenya Family Safari Holidays.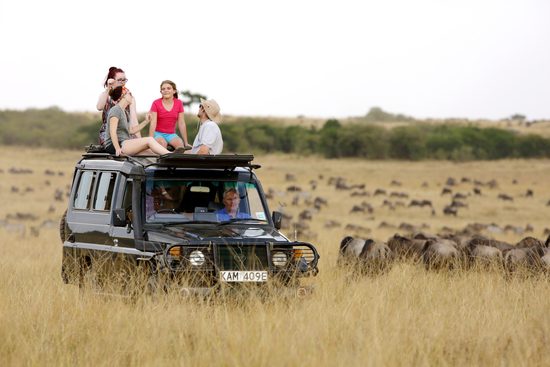 8 days Kenya Family Safari Tour For Adult & Young Kids. This complete luxury 8 days Kenya family safari takes you to  Sweetwater-Oljepeta, Samburu National Reserve, Lake Nakuru, Lake Naivasha and Masai Mara National reserve to explore vast stretches of our country, discovering her great parks, scenic wonders, and fabulous wildlife. With this, Bushtroop safaris & tour experts also offer accommodates in Kenya's finest safari lodges which are children Friendly
Detailed Itinerary For 8 Days/7 nights Kenya Family Safari Holiday Package
Day 01: NAIROBI – SWEETWATERS
Your safari adventure begins with a warm welcome by our customer service representatives upon your arrival at Jomo Kenyatta International Airport. Your home tonight will be at the exquisite SWEETWATERS TENTED CAMP in the secluded heart of the Ol Pejeta Ranch and Rhino sanctuary. Built within a private ranch, the camp is a "Rhino heaven" which also supports a wide variety of other wildlife such as elephants, giraffes etc, it is only here that you can have a night game drive at extra cost. 25 of the 30 luxurious tents overlook the water hole and some are built on stilts to offer you a better view. Each luxurious tent comes with en-suite facilities, a patio (verandah) and is set under a thatch roof. A visit to the Chimpanzee sanctuary should not be missed and remember to pack your swimming gear because the camp has a swimming pool, table tennis, board games and satellite television. Lunch will be served at the Camp. Dinner and overnight at luxurious SWEETWATERS TENTED CAMP
Family Tours in Kenya
Day 02: SWEETWATERS – SAMBURU
After breakfast, we drive further north to SAROVA SHABA LODGE. It's located high above the banks of the life-giving Uaso Nyiro River in the Shaba Game Reserve. The lodge beautifully incorporates the existing natural springs as one of its special features. The 1989 movie "Born Free", a true-life story of George and Joy Adamson was shot in the Game Reserve and some of the scenes were shot at the lodge. An open-air restaurant over looking the river, swimming pool, curio shop, bars, and it's location at an oasis make it a perfect base from which to explore the Shaba Reserve, as well as its sister reserve – Buffalo Springs to the west.
Apart from being the only location in Kenya where you will find Gerenuk, the reserve is renowned for its unique collection of other species of animals, such as Somali Ostrich, Reticulated Giraffe, Beisa Oryx, Grevy Zebra, Cheetah, and Lions. After Enjoying an afternoon Game (wildlife) viewing in the reserve filled with scenic beauty, we return for dinner and overnight at SAROVA SHABA LODGE .
Day 03: SAMBURU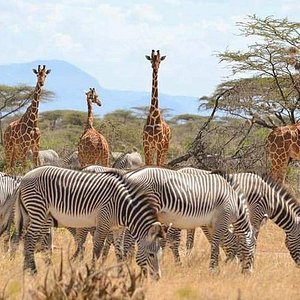 Before dawn we head out in search of Africa's wild cats. From the game drive we return to the lodge for breakfast and relax perhaps read a book/novel, sunbathe and go for a refreshing dip in the uniquely designed swimming pool before heading out again on your afternoon game drive. All meals & overnight at, SAROVA SHABA LODGE .
Fish Eagles
Day 04: SAMBURU – LAKE NAKURU
After an early breakfast drive south through Isiolo, crossing the northernmost foothills of Mount Kenya, until we reach Nanyuki town. Heading west we make a brief stopover at Thomson Falls and then drive southward to Lake Nakuru. Lake Nakuru is known as an ornithological paradise by birdwatchers because the lake is world famous as the location of the greatest bird spectacle on earth which boasts any where between one and two million lesser and greater pink flamingos that feed on the abundant algae thriving in the lakes warm waters. The park has also been established for the protection of endangered species such as the rhino and is also home to Columbus monkeys, Leopards, Giraffes, and a variety of plain antelope.
Lunch will be served at LAKE NAKURU LODGE. An afternoon game drive around the lakeshore will be the main feature for the afternoon, dinner & overnight at LAKE NAKURU LODGE..
Day 05: LAKE NAKURU –LAKE NAIVASHA
After an early breakfast, our safari will be destined for Lake Naivasha, the only freshwater lake in the Rift Valley. The lake is home to a large colony of hippos and it's also a Mecca for bird watchers and researchers since over 400 different species of birds have been recorded here.
The lakes location and wildlife makes it an ideal place for an afternoon boat ride. A visit to the liberating Crescent Island, which is completely undeveloped, wild and free, is one of the few places on earth where you can walk among herds of zebra, wildebeest, gazelle, giraffe and dik diks. There are no predators and no fences so it will be quite a liberating and exciting feeling to walk among the wildlife.
Lunch will be serverrd at Lake Naivasha. In the afternoon enjoy an unforgettable and memorable boat ride. Later enjoy your dinner prepared from the freshest lakeside produce and ingredients. Dinner and overnight at LAKE NAIVASHA COUNTRY CLUB.
Mara Serena Room
Day 06: LAKE NAIVASHA – MASAI MARA
Today our safari expedition will take us to the jewel of Kenya's parks, the world famous Masai Mara Game Reserve. This is Kenya's number one park and is always on every tourist's "Must see list". Full of life with various types of animals and birds, Masai Mara crown's the climax of every safari in Kenya. Apart from the big five, the Masai Mara is most famous for the spectacular annual migration of over a million wildebeest, zebra, gazelle etc from the Serengeti in northern Tanzania crossing the Mara River into Kenya in search of fresh feeding grounds, which takes place in late July or August. .
Lunch will be served at the excellent MARA SERENA LODGE your new home for the next two nights. After lunch and some time for relaxation, or sunbathing and going for a dive in the pool, your driver/guide will take you for an afternoon game drive in search of the shy and elusive leopard, the solitary and ill-tempered Rhino, lions, buffalos, and many others. As the sun starts to edge its way dip into the African horizon it will be the perfect opportunity to capture the beautiful Mara landscape on a camera. Dinner & overnight at, MARA SERENA LODGE.
Day 07: MASAI MARA
An early morning game drive before dawn, followed by breakfast, is the perfect start of another unforgettable and memorable day in Africa.In between the morning and afternoon game drives you can take time out to swim in the pool or simply sit back, relax and enjoy the peaceful atmosphere of the lodge and the natural flora and fauna surrounding it. All meals and overnight at, MARA SERENA LODGE.
Day 08: MASAI MARA – NAIROBI
After breakfast we drive back to Nairobi with a game drive enroute arriving early afternoon. Dinner and overnight at The Stanley Hotel.
Price per person For 2 Pax: From $3960
Price per person For 4 Pax : From $3670
Price Per Person For 6 Pax: From $ 3310
The children sharing room with parents pay 50% of Adult rate, while those who want their own room pay $75%
The Price Includes:
Airport transfers on arrival and departure in Nairobi as per the itinerary
1 night bed & breakfast accommodation in Nairobi Serena Hotel, standard room
Transportation & inclusive use of our 4 wheel drive safari landcruiser throughout
your safari
Services of an experienced English Speaking driver / guide throughout your safari
Unlimited game drives during the day as per itinerary
Park entrance fees for the above mentioned game parks & reserves
Accommodation as per the Itinerary
Meals as per the itinerary
Evacuation insurance in Kenya in case of an emergency
Excluded
Items of personal nature i.e. beverages, laundry, telephone, souvenirs etc.
Travel / medical / cancellation insurance
Tips / gratuities for driver / guide and hotel / Lodge / Camp staff
Extra cost incurred if change in itinerary
Excursions / additional accommodation / meals in Nairobi
Any extras not mentioned above e.g. extra meals, activities on safari & beach etc
Visa fees for Kenya