8 Days Mount Kenya Trek Chogoria-Sirimon Route
8 Days Mount Kenya Trek Chogoria-Sirimon Route. 8 days Mount Kenya climbing via the chogoria-sirimon route follows the chogoria route to Lenana peak, & descends through Siriomon route.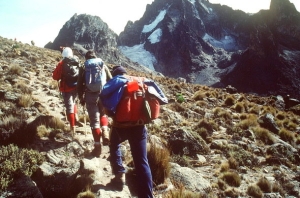 This 8 days Mount Kenya climbing Chogoria Sirimon route, allows you to hike Mount Kenya from the Chogoria route to the top of Mount Kenya, while the decent through Sirimon route, takes one through breathtaking forest tracks up to the base. The chogoria -sirimon route is the most approved route offering the most impressive views to the summit, and also the driest route up the mountain, and the trek along the Gorges Valley is truly spectacular.
Accommodation on this hike is 3 nights in mountain huts and 2 nights camping.  Nonetheless, if you prefer to camp you can do so on all nights on the mountain
Detailed Itinerary For 8 days Mt. Kenya climbing Chogoria-Sirimon Route
Day 1: Welcome to Nairobi
Pick up from airport to Nairobi Hotel.
Day 2 Nairobi- Chogoria (2800m)
After breakfast we depart Nairobi from the hotel and head to Chogoria town arriving in time for lunch at the Transit hotel. The journey takes 3 to 3.5 hours. Afternoon will be spent walking around the town for acclimatization. Dinner and overnight at the Transit Hotel.
Day 3. Chogoria – Meru Mount Kenya Lodge (Bandas) (3300m)
After breakfast we take 4×4 and drive up to the edge of the bamboo forest where we start our trekking through the dense bamboo forest for distance of 10 km up to the Bandas for lunch. Afternoon will be spent walking around the lodge with a view of beautiful sceneries. Dinner and overnight at the Bandas.(accommodation at Bandas is of single beds.hot shower and bon fire self catering bandas)
Day 4. Mount Kenya lodge via lake Ellis (3500m)
After breakfast and sorting of porter loads we set off up the mountain at a nice and easy pace . A slightly longer walk via Lake Ellis gives scenic views of Mugi, Ithunguni and the Giants BilliardsTable, whilst if we follow the river near roadhead, upstream for about 3 km, the foreground scenery and flora is particularly beautiful. Lunch by the stream banks then it's time to cut up the left hand hillside to our camp at about 3,600m, well away from any of the more "touristy" areas.
Mt Kenya Climbing
Day 5. Lake Elliis to Lake Michealson. (4000m)
From our campsite, we continue to move up through the moorland zone. As this area of the mountain is still off the beaten track, there are no paths to follow, and on each trip we vary the area we walk across. After about an hour, traverse left and join a ridge (slight path to follow) and join the normal Chogoria route to Minto's Hut after about 4 hour walking. Lunch at a small stream crossing then 45 min on to a camp near Minto's Hut and next to one of the tarns. Very short afternoon walk over to superb views across to "The Temple" and down to Lake Michaelson.
Day 6: Mintos to Austrian hut (4670m)
Today we begin our trek ascending up along the foot of huge rock walls. From the top we will have an excellent view of Mt. Kenya. After ascending for a couple of hours we reach Tooth Col. From here we traverse until we reach the Austrian Hut.
Day 7: Austrian Hut to summit (4985m)
Up early (about 05:00Hrs route to the Austrian Hut and a further 45 minutes onwards to Pt Lenana. for sunrise and descend to shipton camp for breakfast before descending further to Old Moses Camp for dinner and overnight.
Day 8: Nairobi.
Walk Leisurely to Park Gate and connect with the transfer vehicle to Nanyuki. After lunch drive to Nairobi and arrive late in the evening.
1 Person US$ 1,500
2 Person US$ 1,420
3 Person and more US$ 1,290
PRICE INCLUDE
-1 Night at Nairobi Hotel on bed and breakfast basis
-All transport from Nairobi to the mountain and back
-Park fees
-Camping fee
-3 Meals per day
-Park fees
-Porters fee
-Cook
-Guide
NOT INCLUSIVE
-Soft drinks e.g beer
-Equipments(we have them for hire)
-Tips
WHAT YOU NEED TO BRING WITH YOU
-Down sleeping bag
-7 degrees centigrade
-Rain jacket
-Rain trouser
-Balaclava (woolen Hat)
-Warm Clothes
-Fleeze jacket
-Hiking boots
-Gloves
-Walking sticks
-Torch
-Sunglasses
-Ruck suck
-Day pack
For more Kenya Safaris, contact Bushtroop tours and Safaris on www.bushtroop-safaris.com, by email at: info@bushtroop-safaris.com, bookings@bushtroop-safaris.com or call/whatsApp us on +254 722 802513
Fill Free To Fill This Contact Form