7 Mount Kenya Climbing Naromoru-Chogoria Route
7 days Mount Kenya Climbing Naromoru-Chogoria route: Day 1: Nairobi to Naromoru gate, Day 2:  Old Moses Cam, Day 3: Likii North Camp,  Day 4: Shipton's Camp, Day 5: Shiptons camp 4,200m – Point Lenana 4,985m – Mintos hut – 4,250m, Day 6: Mintos hut – Mt Meru bandas – 2,600m, Day 7 : Mt Meru bandas – Nairobi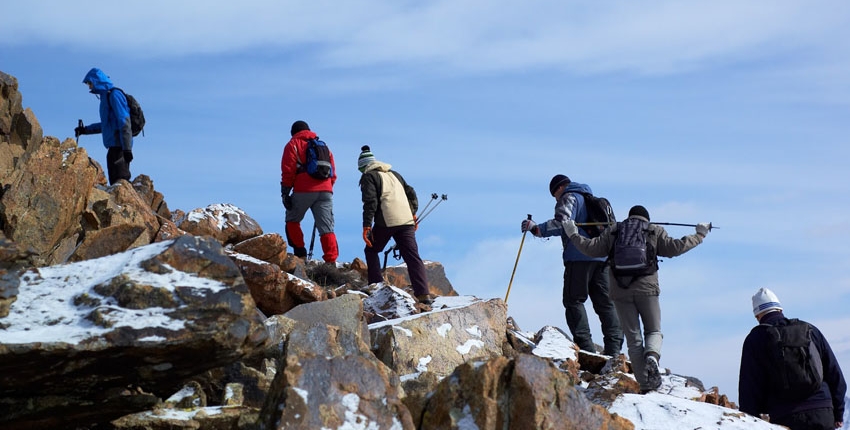 Mount Kenya is the second highest mountain in Africa (5199m above sea level), after Kilimanjaro. The mountain is ice capped at its peak, featuring outlandish glacial valleys, an array of crystal-clear glacial lakes (Tarns), and numerous attractions.
This 7 days Mount Kenya Climbing Naromoru-Chogoria route is ideal for those with less physical strength and beginners
Detailed Itinerary For 7 Days Climbing Mount Kenya
Day 1-Arrival Nairobi.
Pick up from Nairobi international airport, meet and greet by a Bushtroop Safaris & Tours driver guide and  transfer to Narumoru River lodge at the base of Mt Kenya for acclimatization. Day hike in the afternoon in the nearby forest.
Dinner and overnight at the lodge.
Day 2 – Narumoru – Old Moses camp-3300m
Leave Narumoru River lodge at 9:30 am to Mt Kenya National Park Sirimon gate, which normally takes 1 1/2 hrs drive, arriving at 11.00, where picnic lunch will be provided. After lunch, follow the track uphill for 10 kms forking right at the junction to reach Old Moses camp which is situated at 3,300m. The ascent from Sirimon gate to Old Moses is 690m.
Dinner/overnight.
Day 3 – Old Moses camp-Likii north camp-3993m
After breakfast, leave at 8.00 am, follow the directions for the direct route, until you reach the fork after one hour. The track becomes a path, and swings right and south round the head of a large valley, crossing several small streams to reach the crest of the ridge between the Ontulili and Likii North Valleys. A walk of 3 to 4 hours to Likii North hut at 3,993m.
Dinner/overnight
Day 4 – Likii north camp- Shiptons camp-4200m.
After breakfast, ascend the west side of the Valley, over a ridge, then down into the Mackinders Valley to meet the direct route, taking one to two hours. From here, follow the Mackinders Valley to reach Shiptons camp, a total of 4 hours from Likii to Shiptons camp at 4,200m.Dinner/overnight.
Day 5 – Shiptons camp 4,200m – Point Lenana 4,985m – Mintos hut – 4,250m.
Wake up at 2.00 a.m., have tea and biscuits, then leave at 3.00 a.m. for the Lenana summit. This section is along hard slog, and the path is indistinct in places. Continue walking across a tough scree, until you come across Harris Tarn. From Harris Tarn, continue up the North face of Point Lenana 4,985m, reaching the summit after approx., 45 minutes for the sunrise at 6.30 a.m. At a clear day, you will be able to see Mt Kilimanjaro (5800m) to the south and the Indian ocean to the east.
After enjoying the views and taking your pictures, descend down to Mintos hut at 4,250m for full breakfast , dinner and overnight.
Day 6- Mintos hut – Mt Meru bandas – 2,600m.
After breakfast, continue descending down to Mt Meru Bandas above Chogoria, following the Gorges Valley. It will take about 5 hours to reach the bandas, Dinner and overnight.
Day 7 – Mt Meru bandas – Nairobi hotel.
After morning breakfast, continue walking down through the bamboo and indigenous forest to reach Bairunyi to meet up with your transport back to Nairobi. The drive will take about 7 hrs.
1 Person US$ 1,500
2 Person US$ 1,150
3 Person and more US$ 1,040
Included in the price:
• Guarantee price/guarantee trek on confirmation
• Transfer to and from the base of the mountain
• Full board accommodation whilst on the trek. Meal plan as detailed: B=Breakfast, L=Lunch and D=Dinner
• Accommodations in camps/huts as per the itinerary
• All park entrance fees to include government taxes
• Service of an English speaking professional guide, porters and skilled cook
• Start and finish Nairobi
• Treated water on the trek.
• 1 night in Nairobi Hotel on bed and breakfast basis
• 1 night in Narumoru River Lodge on half board basis
• On completion, successful climb Certificate
Excluded:
• Laundry, sleeping bags, beverages/Drinks, accommodation before the trek and climbing gears
• International flights
• Visas to Kenya
• Items of personal nature
• Any other extras not detailed in the above itinerary
For more Kenya Safaris, contact Bushtroop tours and Safaris on www.bushtroop-safaris.com, by email at: info@bushtroop-safaris.com, bookings@bushtroop-safaris.com or call/whatsApp us on +254 722 802513
Fill Free To Fill This Contact Form