Car Rental With driver/ Hire a car with driver(chauffeur) in Kenya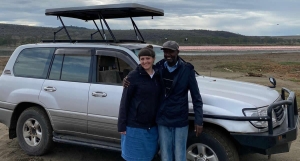 Car rental with a driver guide in Kenya: Are you looking for a little more guidance on your Kenya safari? Perhaps you're looking to add a bit of luxury to your holiday? Rent a private chauffeur driver to guide you through Kenya. Experience all of Kenya's highlights and secret spots as your very own Chauffeur/driver guide takes  you from one place to another. There's no way to beat the added touch of an experienced and knowledgeable local driver guide giving you insight into your ongoing safari
Bushtroop tours & safaris offer car rental with driver guides who are licensed, professional, experienced and have much practice in the field of passenger transportation. With our drivers, you are safe.
Why Rent a car with a driver guide in Kenya and Tanzania
Our driver guides have at least 5 years of experience. They have covered the distance of thousands of kilometers in their good and comfortable cars driving tourists around Kenya, Uganda, Tanzania and Rwanda.
The driver guides know all leisure places around the city, tourist attractions, and possess a wide knowledge of geography, history and Kenya's current situation.
Of course, they can speak both English and Kiswahili, therefore, they can be helpful as interpreters in case you need it. Honestly speaking, they are perfect people to take care of you during your stay in Kenya.
What to expect from our car rental and driver guide or Chauffeur service
Our driver guide will meet with the clients in lobby of their hotel or wherever their pick-up preference
Our chauffeurs/driver guides have knowledge about all Kenya, Uganda, Tanzania & Rwanda inside and out and when is the best time to visit.
Our Chauffeurs/driver guides can quickly respond to a request for an unscheduled stop.
Not only do they point out landmarks but they make valuable suggestions for places to visit in the clients own time at leisure.
Because it is a private tour, clients have the freedom to dictate the focus and the pace, that is, the clients are free to ask questions they want to
In case of an extensive walking tour or the client fancies seeing something during their trip our driver guides can easily obtain tickets on the spot for almost all attractions without making you wait in line.
However, Bushtroop tours and safaris can also provide you with other services such as hotel/accommodation booking, organize or tailor your safari, organize mountain hikes  and offer other services like car rental with rooftop tent for camping, long term car hire and one way car rental(at an extra fee).