8 Days Kenya Walking Safari
Kenya Walking Safaris, Kenya Walking Tours, Hiking Safaris in Kenya, East Africa Trekking Adventures, Kenya Chyulu Hills Hike, Amboseli Walking Tours, Tsavo Wildlife Walking Trip, Africa Walking Tours
Detailed Itinerary for 8 days Kenya Walking Safari
Day 1: Nairobi/ Amboseli National Park.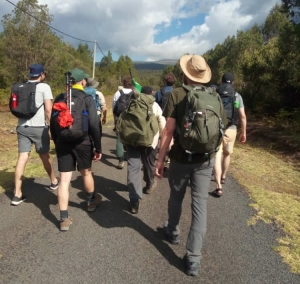 Leaving Nairobi towards the south we pass the highly cultivated Wakamba country before entering the Masai plains at the foot of Kilimanjaro. Afternoon game drive in the park. We set our camp in a wild and private ground of the Amboseli National Park.
Day 2: Amboseli National Park.
Whole day game viewing in Amboseli.
Day 3: Amboseli / Mbirikani Group Ranch.
Full morning game drive before leaving the park towards the Chyulu hills. Our route takes us through many Masai villages and past a cultivated swamp where "up-country" people are producing vegetables in a very traditional irrigation system.
Day 4: Walking on Mbirikani Group Ranch.
The local Masai have created a private game reserve covering several thousand acres and bordering Tsavo West National Park. This is where we walk, following herds of plains game and hopefully coming across hunting lions.
Day 5: Walks Mbirikani Group Ranch.
At the foot of this 2000m mountain range we trek across the savannah. The plains are covered with umbrella shaped acacias which are favourite food of the local elephant population.
Day 6: Walking Chyulu Hills.
The Chyulu Hills are an ancient volcanic range and part of Tsavo National Park. From the top of these rolling hills we have magnificent views over the Masai Plains and of Mt. Kilimanjaro. The summit is a contrast of thick forest and barren volcanic cones.
Day 7: Tsavo West National Park
Game viewing from our vehicles in Kenya's largest national park. Visit the famous Mzima Springs where millions of litres of clear water gush from the ground into a huge pool inhabited by hippos & crocodiles.
Day 8: Nairobi.
Game viewing in the early morning and passing through the park we head on our way back to Nairobi.
For prices and more information about this safari, contact Bushtroop tours and Safaris on www.bushtroop-safaris.com, by email at: info@bushtroop-safaris.com, bookings@bushtroop-safaris.com or call/whatsApp us on +254 722 802513