4 days Masai Mara wildebeest migration Safari Tour Package Kenya.
4 days Masai Mara wildebeest migration Safari Tour Package Kenya,4 Days Masai Mara migration budget group joining safari tour, 4 days Masai Mara mid-range Kenya, last minute booking 4 days Fly-in Luxury Masai Mara Migration Safari tour package, Joining Group 4 Days Masai Mara Luxury safari, Kenya Migration camping safari.
The 4 days Kenya Masai Mara wildebeest migration safari package takes you to Africa's most incredible and remarkable wildlife experiences, that is, the Masai Mara Migration, that each year from July to October.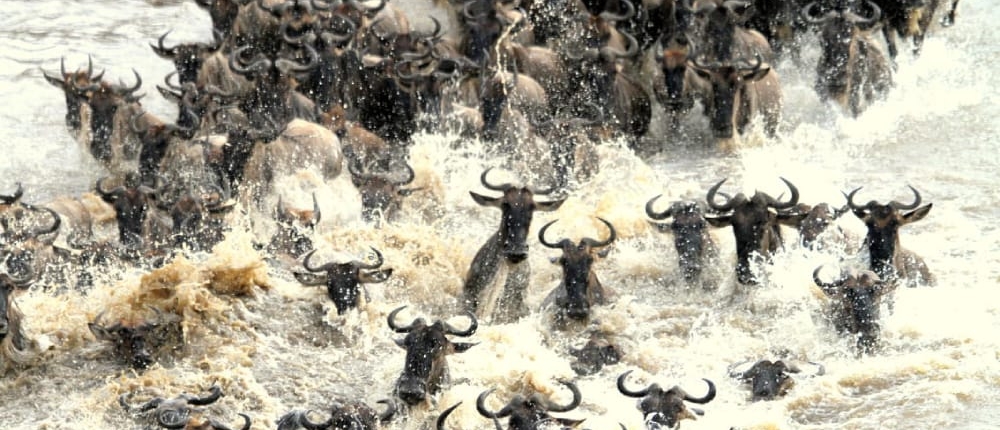 The Masai Mara wildebeest migration is not just a 1 day crossing but an all year round and endless excursion, that is they are always  in a circle, say from  Serengeti National Park to Masai Mara National reserve and then back through the  Mara River.
In the first half migrating herd covers a distance of over 3000 kilometers, when crossing to Masai  Mara game reserve from mid-June and late July, then the second circle takes  the  month of October when they eventually return to Serengeti National Park in Tanzania.
During this period, expect to see wild game including large population of  wildebeests, zebras, and Thomson's gazelles to and from the Serengeti. Wild cats like Leopards, lions and cheetahs can also be seen in the area
Bushtroop tours and safaris' 4 days Masai Mara Wildebeest Migration safari package provides both drive-in and fly-in safari tour package excursions that vary in  accommodation options such as camping, tented camps or lodges/hotels depending on your budget.
4 Days Masai Mara Migration Safari Itinerary highlight
Day 1: Transfer to Masai Mara From Nairobi
Day 2 & 3: Full day Masai Mara Safari
Day 4: Departure
Detailed Itinerary For 4 days  Masai Mara Safari
Day 1. Nairobi – Mara
Depart from Nairobi in the morning and drive along the floor of the Rift Valley with a stop over at view park with lunch at Narok town. Check in the camp then proceed for evening game drives followed by dinner and overnight stay at Mara Spring camp.
Day 2 & 3: Whole Day  Masai Mara
Full days spent exploring the park in search of the big 5. Morning and afternoon game drives are offered. Optional hot air balloon safari can be arranged at an extra cost of US$ 420 per person. Dinner and overnight stay at the camp
The Mara offers wildlife in such variety and abundance that it is difficult to believe: over 450 species of animals have been recorded here. You will easily see lions, rhinos, hippos, crocodiles, giraffe, wildebeests, zebras, buffalo, warthogs, hyenas, jackals, wild dogs, buffalo, leopard, many kinds of antelopes and elephant. It is in the Mara that perhaps the most spectacular event of the natural world takes place. This is the annual migration of millions of wildebeest and zebra from the Serengeti (Tanzania) in search of water and pasture. Following on their heels are the predators of the savanna- lion, cheetah, wild dog, jackal, hyena and vultures
Day 4. Masai Mara to  Nairobi
Morning game drives then proceed to Nairobi to arrive by 1600 hrs where the safari ends.
Price per person US$ 560
Tour price includes
-Transport in a 8 seater custom made Tour van with a pop up roof – each person is guaranteed a window seat
– Services of a professional English, speaking guides
– Game drives as per the itinerary
– Game parks or national parks entry fees;
– Accommodations in self contained Tents fitted with camp beds and beddings
– Three meals per day whilst on safari, prepared by our cook
Tour price excludes
– Drinks
– Tipping
– Cultural visits to Maasai villages – costs US$ 20
– Personal effects
– Kenya Visas
– Hotel accommodation in Nairobi before and after the safari
Joining Group 4 Days Nakuru Masai Mara camping safari, kenya budget camping safaris, Maasai mara camping safari 4 Days Masai Mara and Nakuru Group Joining Camping Safari, Joining Group 4 Days Nakuru Masai Mara camping safari, kenya budget camping safaris, Kenya Budget camping safari, maasai mara camping, Kenya wildlife camping safari tou