7 Days Tanzania Lodge safari to Tarangire, Ngorongoro Crater, Serengeti and Lake Manyara.
7 days Tanzania Lodge safari: This 7 days  Tanzania lodge safari  offers the incredible views of the wildebeests in Serengeti National park; Zebras, gazelles, cheatahs and flamingoes , tree climbing lions, and the largest density of large African elephants in Lake manyara, Ngorongoro crater, and Tarangire National parks.
Detailed Itinerary for 7 days Tanzania Lodge safari to Tarangire, Serengeti, Ngorongoro and Lake Manyara
Day 1 Arusha – Tarangire
Departing from Arusha Town at 0900 Hrs. we proceed to Tarangire National Park for a morning Game viewing. Lunch at the Lodge followed by a full afternoon in the Park viewing game. Dinner and Overnight at the lodge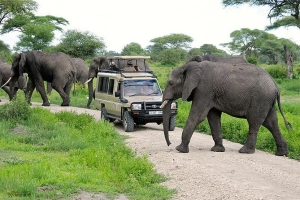 . Tarangire National Park, gazetted in 1970, is 118km away from Arusha town, which covers an area off 2600sq km that's about 1600 miles and derivers its name from the Tarangire River that flows through the center of the park. The river flows from south to north/northwest and empties its water in Lake Burungi. An exceptional collection of "Acacia tortilis" and baobab trees ahs become synonymous with the name Tarangire National Park. The best time to visit Tarangire National Park to view the wildlife is in dry season, from June-October.
Day 2 Tarangire – Ngorongoro
After breakfast we spend the morning in the Park game viewing, returning to the lodge for lunch. Proceeding to Gibb's farm (A beautiful Lodge in the Ngorongoro highlands near to the Crater) for dinner and overnight.
Day 3 Ngorongoro
We depart for Ngorongoro crater after breakfast with packed lunches for a full day's crater tour. Dinner and Overnight at the Crater lodge. The Ngorongoro crater is the world's biggest whole volcanic caldera at 8300 sq km and is arguably the most stunning arena. It is frequently described as one of the wonders of the world, not only because of its geological magnificence, but also because it serves as an extraordinary natural sanctuary for some of Africa's largest populations of large mammals. Ngorongoro and other freestanding mountains are volcanic in origin, formed during the fracturing process that created the Rift valley 15 to 20 million years ago. When it peaked in size 3 million years ago it was a similar height to Mt. Kilimanjaro today.
Day 4 Ngorongoro – Serengeti
Leaving the Ngorongoro Conservation area we drive off into the Serengeti National Park game viewing En-route as we drive North to the northern boarder of the Serengeti and the Maasai Mara. Lunch at the Lobo Lodge on the Wildebeest migration route. A full afternoon game viewing with dinner and overnight at the lodge.
Day 5 Serengeti
Departing Lobo after breakfast, we drive south to Seronera game viewing en-route. Lunch at the Serena Lodge with a full afternoon's game viewing. Dinner and overnight. You can visit the park all year round but there is less game in the park during the dry season – July /October, where they migrate to the Masai Mara in Kenya. During March to May the herds move in search of grazing to the southern section and in May to June, they move towards the western corridor of the park. Serengeti in the low season will still offer game viewing to match that of any park in Africa, and for some, the fact that there will be fewer tourists may be an added bonus.
Day 6 Serengeti – Lake Manyara
Early morning game viewing in the Seronera area followed by lunch at the lodge. After lunch we proceed to Lake Manyara National Park arriving in time for dinner and overnight at Lake Manyara Hotel. The Lake Manyara National park is serene and beautiful with main attractions of a rich bird life, tree-climbing lions, its elephants, and hippos that you can see at closer range than most other places. Lake Manyara is an alkaline lake and at certain times of the year hosts thousands of flamingos and a diversity of other bird life. Although it is one of the smallest parks, its vegetation is so diverse enabling it to host a variety of wildlife habitats.
Day 7 Lake Manyara – Arusha
Morning game viewing in the Park with Picnic Lunch boxes. Departing for Arusha Town in the afternoon and arriving in the mid-afternoon. Drop-off at your hotel.
7 Days Lake Manyara Serengeti Ngorongoro Tarangire Lodge Safari Tanzania Lodge Safaris adventure wildlife holidays tours Lake Manyara Lodge safari travel
Low season(April-June)
Price per person for 2 pax =$3425
Price per person for 4 pax=$2880
Price Per Person for 6 Pax=$2595
High season(Jan-Mar and Nov-Dec)
Price per person for 2 pax= $3700
Price per person for 4 pax=$3155
Price Per Person for 6 Pax=$2970
Peak Season (July-October)
Price per person for 2 pax=$4180
Price per person for 4 pax=$3640
Price Per Person for 6 Pax=$3455
Price includes:
– Transportation in a custom safari jeep with pop-up roof ideal for game viewing and sightseeing
– Services of a trained and experienced English speaking driver/guide
– Accommodations as in the Itinerary
– Meals as indicated in the itinerary
– Bottled water for use during the safari
– Game drives and park entry fees
-Airport transfers
Not included:
– International air transportation to and from Arusha
– Expenses of personal nature such as visas, travel/baggage insurance, laundry, beverages, tips
For more Tanzania Safaris, contact Bushtroop tours and Safaris on www.bushtroop-safaris.com, by email at: info@bushtroop-safaris.com, bookings@bushtroop-safaris.com or call/whatsApp us on +254 722 802513
Fill Free To Fill This Contact Form