5-Day Luxury Double Rwanda Gorilla Trekking Experience
5 Days Luxury Double Rwanda Gorilla Trekking: This 5 days Luxury Rwanda gorilla trekking offers double gorilla trekking in Volcanoes national Park and sleeping in Luxury (High-end) Lodges.
Highlights For the 4 days Luxury Rwanda Double Gorilla Safari
Day 1: Welcome To Kigali
Day 2: Kigali Tour – Volcanoes national park
Day 3: Gorilla Trekking (Group 1)
Day 4:  Gorilla Trekking (Gorilla Trekking)
Detailed Itinerary For 4 Days Luxury Safari
DAY 1: Welcome to Kigali
On arrival, you will be picked by an expert and professional driver guide from Bushtroop Tours and safaris, who will take you to Kigali Serena Hotel for dinner and an overnight.
DAY 2: Kigali
On this day 2 of the 5 days Luxury Rwanda double Gorilla trekking safari, you will wake up early in the morning for breakfast,  then set out to explore the city and visit the Genocide Memorial Site, to learn how the country has dealt with the tragedy and recovered to stand today as a testament to humankind's resilience.
Head for lunch at a local restaurant,  and continue with your exploration to Natural History Museum – Kandt House, The Dancing Pots, Caplaki Handicrafts Cooperative, Art Galleries – Inema, Ivuka & Niyo.
Dinner & overnight at Kigali Serena Hotel
DAY 3: Transfer to Volcanoes National Park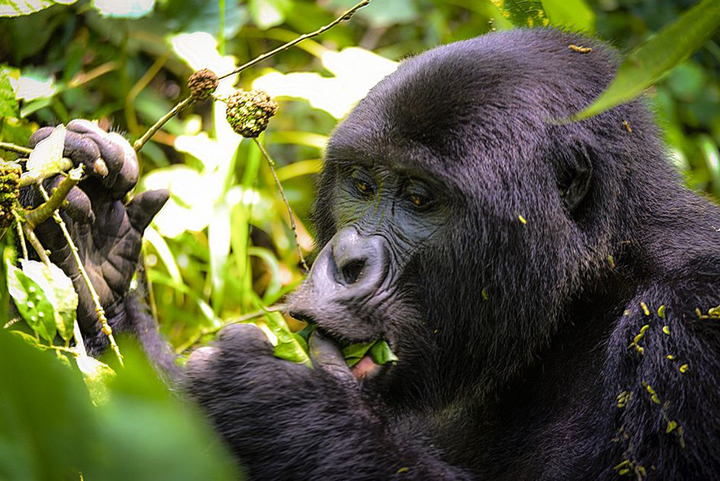 Start with breakfast early in the morning, and head to the Park headquarters for briefing about the code of conduct for gorilla trekking.  Proceed to the lush forest to look for gorillas, which may take from 2-6 hours depending gorilla family or how far they may have moved from the previous location.
Upon finding them, stay with them for a magical hour as they go about their daily lives feeding, playing, resting and raising their young.
Afterward, drive back to your lodge for lunch and spend the rest of your time at leisure.
Dinner and overnight at Sabyinyo Silverback Lodge.
DAY 4: Gorilla Trekking
An early breakfast, served at the lodge, then depart by road to the Volcanoes National Park headquarters for briefing, then after the mighty search like any other day. Once the family is sighted you will spend at most 1 hr with the Gorilla family. After this phenomenal experience, return to your vehicle at the edge of the forest, returning to Sabyinyo Silverback lodge for lunch. Afternoon at leisure or otherwise visit the Iby'iwacu cultural village. Dinner at Singita Kwitonda Lodge.
Dinner and overnight at Sabyinyo Silverback Lodge.
DAY 5 Depart Kigali
In the morning, set out again on a track golden Monkeys, to observe Golden Monkeys group, to marvel at the familiar behaviors of these magnificent primates. Following lunch at your lodge, return to Kigali. Relax in a comfortable day room before transferring to the airport for your departing flight.
Jun 1, 2023 – Sep 30, 2023 / Dec 15, 2023 – Dec 31, 2023 2 paxs $6,750 3+ people $6,165
Oct 1, 2023 – Dec 14, 2023 2 paxs $5,776 3+ people $5,541.
For more Rwanda Luxury  Safaris, contact Bushtroop tours and Safaris on www.bushtroop-safaris.com, by email at: info@bushtroop-safaris.com, bookings@bushtroop-safaris.com or call/whatsApp us on +254 722 802513